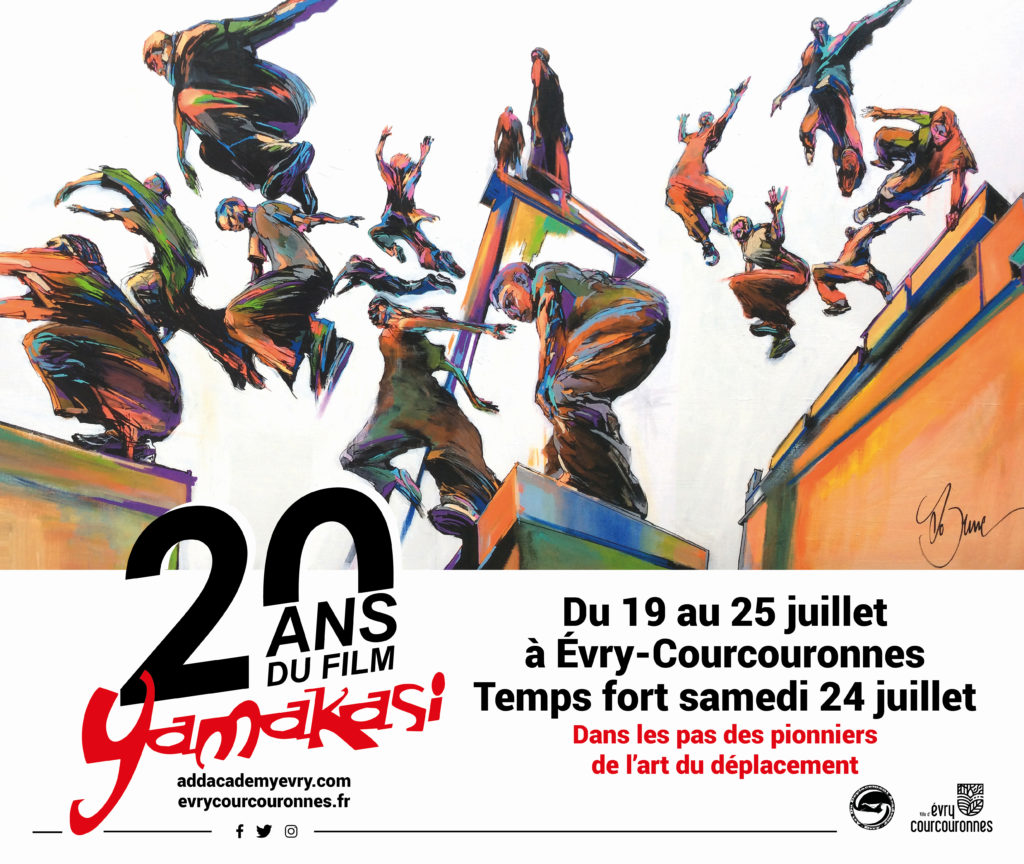 To celebrate the 20th anniversary of the Yamakasi Film this year, the ADD Academy Evry association, in partnership with the city of Evry, is organizing a week of initiations from July 19 to 23. They will take place in different districts of Evry.
But also a highlight on weekends to celebrate a practice born in the region and which is now practiced all over the world.
THE INITIATION WEEK
The initiation week will take place from Monday 19, July to Friday 23, July 2021 and will take place in different districts of Evry during the whole week. The aim is to discover the basics of the practice of Art du déplacement, a discipline born in the territory and which emphasizes mutual aid and sharing within the learning process.
Hours :
–10AM to 12PM : time slot reserved for activity centre and community centre (children aged 6 to 18)
–2PM to 5PM : time slot for all ages
Dates and places :
Monday July 19 : Bois Sauvage / Pyramides
Tuesday July 20 : Parc Henri Fabre / Chantier du coq
Wednesday July 21 : Canal / Courcouronnes centre
Thursday July 22 : Champs Elysées / Epinettes place de la commune
Friday July 23 : Aunettes / Parc Henri Fabre
HISTORICAL WALK THURSDAY JULY 22
The association offers 2 slots (12:30 PM or 5:30 PM) open to all by registration on Thursday July 22, departing from "la place des droits de l'homme et du citoyen" with the presence of a member of the association and a Yamakasi founder. This one-hour walk in the city center will tell the story of the birth of the discipline in the area, the special relationship with urban architecture and some anecdotes.
WEEKEND
The film's 20th anniversary weekend will take place from Saturday July 24 to Sunday July 25 from 9AM to 6PM, with the presence of a member of Yamakasi.
For practitioners (Yamaks, Traceurs, Freerunner) who wish to participate in morning training and spot visits and / or discussion around the discipline, it is essential to register online. The registration is free.
This will allow us to organize ourselves as well as possible for the morning training but also to communicate to you one to two weeks before the opening of registrations the visits to spots and round tables for which you can register.
Places :
All training, initiations and visits will start and end at "la place des droits de l'homme et du citoyen, 91000 EVRY-COURCOURONNES".
In the program :
Saturday and Sunday morning :
9:00AM to 1:00PM practitioners from 12 years old who have registered online beforehand will be able to initiate a physical training at the start of "Place des droits de l'homme" followed by technical training divided into several groups.
Saturday July 24 Afternoon from 3:00PM :
Opening of the animation village at "Place des Droits de l'Homme" which will offer introductory workshops to the Art du déplacement as well as other practices (Capoeira, Breakdance, FootFreestyle)
Discussions and exchanges on different themes around the practice
Guided tour of the city's mythical spots for practitioners who have come for the occasion
7:15PM Demonstration of the discipline as well as other guest practices / Interviews exchange with founding members of the Yamakasi group.
8PM Retransmission on a Giant Screen of the Yamakasi Film.
Sunday July 25 Afternoon from 2:30PM :
Just like on Saturday afternoon, practitioners will have the opportunity to choose between participating in the visit of certain spots, or attending discussions and exchanges on different themes around the practice.